Why You Should Choose Reykjavik, Iceland As Your Next Travel Adventure!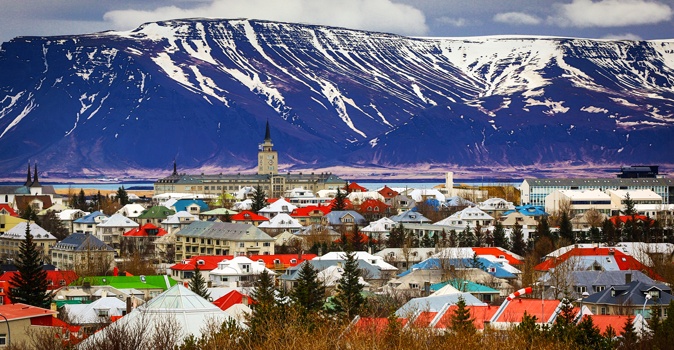 ---
Quick Facts
Population: 120,000 (estimate 2016)
Language: Icelandic
Climate: Humid subarctic continental climate - cool summers and no dry season
Currency: Icelandic króna (plural krónur) – (1 ISK = 0.0087 USD)
Time Zone: Greenwich Mean Time (GMT) - no daylight savings
Trip Details
Jump ahead to read about…
Northern Europe is home to "The Land of Fire and Ice"—perhaps better known as Iceland. But don't be deceived by the name of this Nordic island country; according to The Daily Climate, ice covers only 10-11% of Iceland's terrain!
If you win Tokio Marine HCC - MIS Group's "Choose Your Own Adventure" trip sweepstakes, you will have the option to select Reykjavik, Iceland as your $5k travel destination. From the celestial glow of the Northern Lights to the ethereal beauty of Blue Lagoon's geothermal spa, Iceland offers countless natural sights to behold.
Here's everything you need to know about this magnificent locale:
The landscape is a true miracle of nature.
The dramatic terrain of this awe-inspiring destination has been featured on nearly every "most beautiful places" list, from Condé Nast Traveler's "The 50 Most Beautiful Places in the World" to Bored Panda's "40 Breathtaking Places to See before You Die."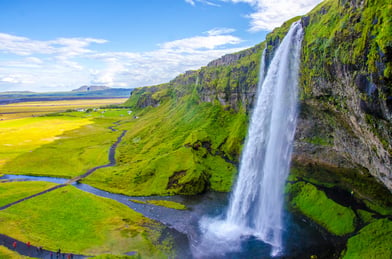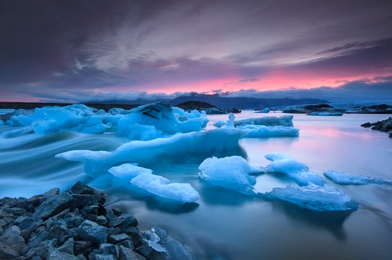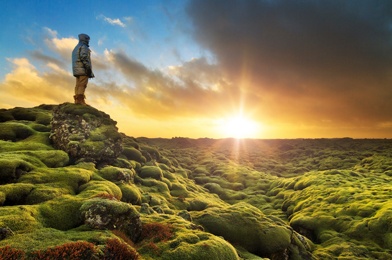 Iceland's topography is shaped by both glaciers and volcanoes, resulting in a variety of landscapes that are truly extraordinary. As you navigate the countryside, you will stumble across glaciers, waterfalls, hot springs, lava formations, lakes, rivers, mountains, and cliffs—all saturated with rich colors.
The weather can be unpredictable.
"If there's one word that best describes the Icelandic weather experience, it would be unpredictable," writes Audur, e-marketing manager of iheartreykjavik.net. Icelandic temperatures typically vary between 27°F and 57°F, rarely dropping below 16°F or exceeding 62°F, notes WeatherSpark.com.
If your travels take you to Iceland between November 10th and April 3rd, be sure to pack some sweatshirts and a winter coat—you'll be navigating Iceland's cold season (expect a daily high temperature below 40°F). Moderate snow is most likely around mid-February, though you may encounter snowfall anytime from late October to early May.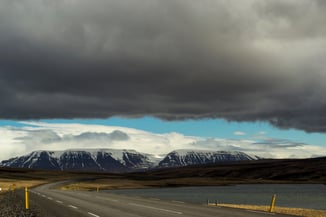 If temperatures in the fifties are more your speed, you'll want to book your trip sometime between June 10th and September 6th, when Iceland's average daily temperature falls around 53°F. No matter when you travel, be prepared for a chance of light to moderate rain. And be sure to dress in layers!
Most Icelanders speak multiple languages - including English.
Though Icelandic is the nation's official language (and one of the most difficult for English speakers to pick up), North American travelers typically find that communication with locals is not a problem. In fact, both English and Danish are mandatory subjects in primary school, shares IcelandGuest.com, and many Icelanders (especially those under 50 years old) speak English fluently!
However, you might rest easier knowing you've got a few key phrases up your sleeve should you encounter any communication barriers. This concise, easy-to-use Insight Guide shares Icelandic greetings, useful words and phrases, signs, numbers, restaurant lingo, and even pronunciation tips to keep you at the top of your game.
The food is ideal for adventurous eaters.
If tasting traditional Icelandic delicacies like hrútspungar (pickled ram's testicles) and hákarl (petrified cubes of shark) is not on your to-do list, don't panic—there are plenty of places for you to dine on pizza, burgers, and hot dogs in Reykjavik.
But if you'd like to indulge in the local cuisine while abroad, expect to find things like whale meat (see Icelandic culture and etiquette here), fish, puffin, sheep, and lamb on the menu.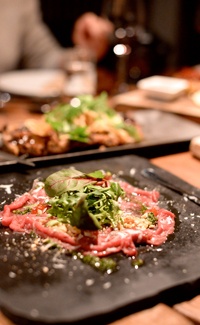 Popular snacks worth tasting include skyr, an Icelandic dairy product with the consistency of Greek yogurt; kleinur, a fried pastry; and bollur, a type of cream puff.
The Hilton Reykjavik Nordica hotel is a great home base for your trip.
As our "Choose Your Own Adventure" sweepstakes winner, you will be awarded 6 days and 5 nights at Reykjavik's luxurious Hilton Reykjavik Nordica hotel. Serving travelers since 1972, this smoke-free hotel is located just 3.8km from Reykjavik Airport.
If you're planning to visit Asmundarsafn, Laugardalsholl, Hallgrimskirkja, or Perlan, you'll only need to set aside about 10 minutes for walking.
Already dreaming of uploading your gorgeous #Iceland2017 travel pics to Instagram? No worries – the Hilton Reykjavik Nordica offers free Wi-Fi, both in your room and in public places within the hotel. Look forward to taking some awesome adventure shots engaging in nearby activities like golf, skiing, snowboarding, snowmobiling, rafting, sailing, or hiking.
If you're looking to keep up with your workout regimen while abroad, hit up the hotel's exercise room. And if you need to relax for a minute between excursions, check out the sauna, full-service spa, or lobby bar and lounge – or, broaden your horizons with a traditional Nordic dish at the Hilton's upscale restaurant!
Public transportation is easy and affordable.
Reykjavik offers a first-rate bus system with routes to and from nearby towns, landmarks, and attractions. You'll find its central bus station located in Hlemmur Square on Laugavegur, the main shopping street in the city.
Expect to pay about ISK350, or about 3USD, for a one-way ticket, which you can purchase aboard the bus. VisitReykjavik.is notes that bus drivers do not carry change, so be sure you have the correct amount on you.
If the bus system will be your primary mode of transportation, look into purchasing the Reykjavik City Card. This card is an all-access pass to 24, 36, or 72 hours of unlimited city bus travel. Plus, it serves as your ticket to several major attractions—and provides discounts at shops and restaurants!
Did You Know? Vision of Humanity's Global Peace Index ranks Iceland #1 in national peacefulness.
The Top 8 Things to See and Do:
The Blue Lagoon
If you've compiled a travel bucket list that takes you through northern Europe, chances are you have Grindavík's Blue Lagoon on the list. Travelers from all over the globe come to relax in the milky-blue waters of Iceland's world-famous geothermal spa.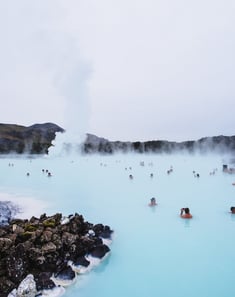 Though the 2 million gallons of water in the lagoon are self-cleansing, renewing themselves every 40 hours, cleanliness is still a vital aspect of Icelandic spa culture. As a visitor to the spa, expect to take a full-body shower in a private shower cubicle prior to immersing yourself in the 98°F -104°F water. But don't worry about your valuables; you'll be given a locker and a wristband which acts as a key!
Harpa
Harpa Reykjavik Concert Hall and Conference Center sits in the heart of Reykjavik, providing spectacular views of Iceland's mountainous terrain and the North Atlantic Ocean. This "cultural and social center" is home to Iceland's renowned Iceland Symphony Orchestra, Icelandic Opera, and Reykjavik Big Band, notes Harpa's official site.
The distinguished landmark's concerts, conferences, and music festivals have attracted 7 million visitors since the venue's 2011 opening. If you're interested in visiting Harpa, you can book a guided tour (for about 16USD) or purchase event tickets online.
The Northern Lights
Iceland's celestial phenomenon, Aurora Borealis, perhaps better known as the Northern Lights, is an extraordinary sight that is not to be missed. Visible in the crisp, clear skies of winter, this "otherworldly illumination" appears "in a variety of colors and intensity," says VisitReykjavik.is, "either twirling gently in shades of milky green, or occasionally blazing in a wild and multi-colored dance across the night sky."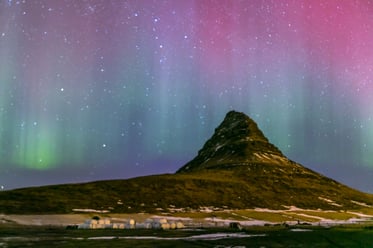 The lights are affected by a variety of climate conditions, so it's best to check the local aurora forecast before heading to the seaside or the outskirts of the city, where visibility is best
Perlan
Not only is Perlan a stunning piece of futuristic architecture, but it also functions as a fine dining restaurant. This revolving glass dome completes a full rotation every 2 hours, offering a glorious panoramic view of Reykjavik and the woodland setting upon which it rests.
Head to the viewing deck on level four to observe the panorama through the lens of a telescope, or visit the dome's café or gift shop for an Icelandic treat.
Hallgrimur's Church
Ready to see Iceland's most photographed site in person? Hallgrimur's Church is Iceland's tallest and largest church. It took 50 years to complete!

The building offers church services and tours, as well as an elevator ride to the top, where you can drink in the stunning cityscape from above. If you visit the church between June and August, you may even get to take in a summer choral or organ concert.
National Museum of Iceland
Located in downtown Reykjavik near the University of Iceland, the National Museum of Iceland is a fascinating attraction for curious travelers and history buffs alike. The museum houses over 2,000 artefacts, "illustrating lavishly the story of Iceland's past, from the medieval days of Viking settlements to current contemporary culture," shares VisitReykjavik.is.
See hours and admission fees in English here.
The Golden Circle
Iceland's most popular tourist circuit, known as the Golden Circle, allows travelers to see three separate wonders. The first is Þingvellir, which Lonely Planet describes as the "meeting-point of the continental plates and site of the ancient Icelandic parliament."
The second is Geysir, a famous spouting hot spring located in the geothermal field of Haukadalur.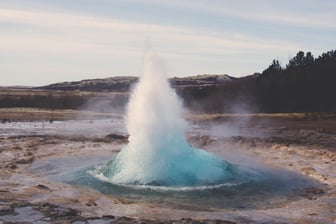 The third is Gullfoss (golden waterfall), an iconic waterfall located on the Hvítá (white) river in South Iceland. Gullfoss.is shares that a "shimmering rainbow" may be visible over the falls on any given sunny day, so be sure to take your camera!
Kolaportið Flea Market
Love to collect vintage records, antiques, and knickknacks? Then check out the Kolaportið Flea Market, located along Reykjavik's northern harbor, just minutes from the city center. This indoor market is an ideal destination for adventurers looking to try traditional Nordic delicacies like fermented shark, pickled lamb testicles, and birch cheese (but don't worry—there are plenty of candies and pastries to indulge in, too).
The flea market is open on weekends from 11am to 5pm. Most vendors accept cash only, but there is an ATM located inside the building. VisitReykjavik.is suggests withdrawing money ahead of time, however, as the line can get "quite long."
Ready to go, yet?
From the steamy baths of the Blue Lagoon to the cascading waterfalls of the Golden Circle, there are boundless activities and natural wonders to experience in this "Land of Fire and Ice."
For a chance to win this incredible $5,000 trip – or a trip to one of these other spectacular destinations—all you have to do is enter the "Choose Your Own Destination" trip sweepstakes. No purchase necessary!
NO PURCHASE NECESSARY. A PURCHASE WILL NOT INCREASE YOUR CHANCES OF WINNING. Must be legal resident of the 50 United States (D.C.) who has the age of majority in his or her state or territory at time of entry. Sweepstakes ends 10/16/16. For entry and official rules with complete eligibility, prize descriptions and other details visit http://promo.hccmis.com/5ktripsweepstakes-rules. Sponsored by HCC Medical Insurance Services, LLC. Void where prohibited.
KHE2FFFYH6SP-152-624