Why You Should Choose Florence, Italy as Your Next Travel Adventure!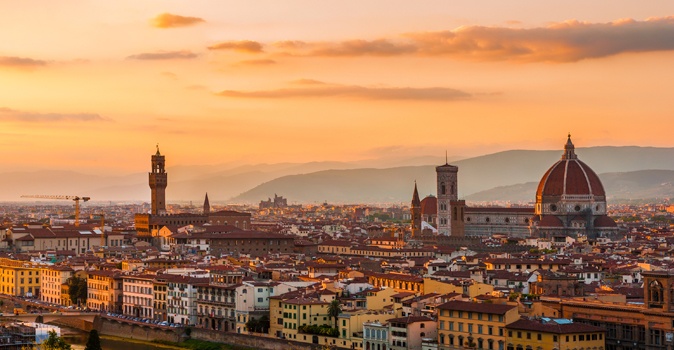 ---
Quick Facts
Population: 370,000 (2014)
Language: Italian
Climate: Mediterranean
Currency: Euro (1 EUR = 1.12 USD)
Time Zone: Central European Time Zone
Trip Details
Jump ahead to read about…
Known as the city the Medici family ruled over for many years, Florence, Italy is a beautiful and historical masterpiece. With the Duomo di Firenze at the heart of it all, Florence is bustling with high-end shops, unique restaurants, famous museums, and breathtaking gardens.
As one of three locations offered to the winner of our $5,000 "Choose Your Travel Adventure" Sweepstakes, Florence is a prime destination for those who desire a vacation rich in history and amazing food.
These are all the reasons why you should choose Florence for your next adventure:
It's surrounded by Tuscan countryside.
Florence is located in the middle of Tuscany, which means it's surrounded by a beautiful array of vineyards, green fields, and cypress trees dotting large, rolling hills. It takes but a few minutes from the Florence gates to find yourself in the middle of the country. You can walk, drive, or take a bus out of the city center toward an outer town in less than an hour.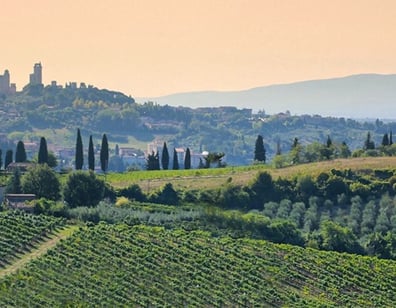 The weather is amazing year round.
May, June, August, September, and October have ideal average temperatures and sunlight hours. The rainiest month is November, though the temperature is still comfortable. The warmest months are July and August, but this is also the season of heftier tourist rates due to summer break and vacations.
For more information on the weather and climate of Florence, Italy, click here!
Ciao, come stai?
There's nothing more unnerving than traveling to a foreign country where the spoken language isn't your own. Luckily, most Italians you will encounter in Florence can speak enough English to help you if you get lost or need directions. The best phrases to learn are, "Hello," "Good evening", "Thank you," "How much is X," and "Where is X."
To learn these helpful phrases, click here!
While ordering food, don't worry about pronouncing something incorrectly. The waiters are more than used to dealing with foreigners. They will always help you figure out what you want whether they can speak English or not. You will never feel unwelcome at a restaurant.
The food is always fresh and affordable.
In most cases, the produce in Italy is provided fresh and organically from nearby farms. These farms strive to use only organic matter in order to provide healthier produce for the country. In turn, these methods result in better tasting and more enjoyable meals from the surrounding restaurants.
All eateries wi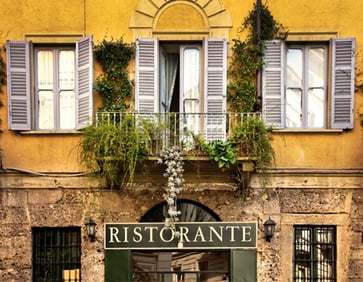 ll charge a sit-down cover charge, so if you are looking to save money in Florence, then choose a forno. Fornos are small, café-like shops where you can grab a sandwich or other fresh meal quickly and eat it on the go. There are also seats located outside these shops where you can sit and eat without a cover charge.
Here are 5 things you must do while in Florence!
The hotel is location savvy and luxurious.
Many of the grand hotels are hidden behind large iron gates or locked double doors so the public cannot see their extravagant interiors. Others line the main streets, boasting balcony views over the plazas.
If you win our "Choose Your Own Adventure" trip sweepstakes and select Florence as your destination, you will be staying in one of the city's most popular hotels— the Hotel Brunelleschi—located right by the Duomo di Firenze!
The entrance and reception of the hotel are located in the Florence city center in "the ancient Tower of Pagliazza, one of the oldest buildings still existing in Florence, and the former Chiesa di San Michele, called 'in Palchetto,'" boasts Hotel Brunelleschi's website.
The hotel is handicapped accessible, offers luxury meals from its restaurant, and is pet friendly! This historic establishment will be your home for the duration of your stay.
Did you know? Hotel Brunelleschi is mentioned in Dan Brown's The Da Vinci Code and Inferno!
Transportation is extremely cheap and easy.
To get around in Florence, all you need is a couple euros to buy a bus pass. The buses go everywhere and are very easy to access and navigate. At the front of each bus, the destination and next stop is shown on a small scrolling screen. It's hard to get lost in this city.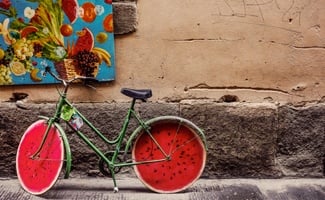 If you're up for it, walking is one of the best ways to see Florence. This will allow you to stop and look at all the small side shops lining the historical streets.
The Firenze Card offers free public transport and access to all museums for 72 hours.
These are the top things to see and do in Florence:
Machiavelli's Vineyard
The house of Machiavelli himself is located just outside the walls of Florence in the hills of Tuscany. There you can tour the historical house and the wine cellars, which are still used to this day, and end the day by having a grand meal at his restaurant. Be prepared to eat a lot—this meal includes multiple courses and lots of wine! (Reservations are needed.)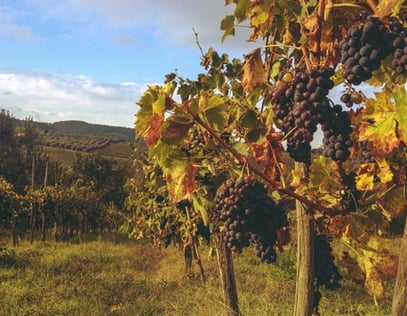 For more details on this guided tour, check out its informational guide here!
Duomo di Firenze & Giotto's Bell Tower
Located in the heart of the city, the Duomo is an amazing sight to behold. You can climb all the way to the top of both the Duomo and the bell tower, but be warned: it is a lot of stairs and close spaces. This doesn't mean it isn't an exhilarating experience, though! The photos you'll have the opportunity to take that high above the city are well worth the exercise.
The Palazzo Medici & Library
The Palazzo Medici still holds some of the original furniture and artwork the Medici family showcased during their reign. It is a spectacle in its own sense, with intricate architecture and open windows that look down into the courtyard.
The Medici library is also a popular site to tour since it holds books on display from the time of the family's rule over the city. The library reveals how subjects and texts were separated and presented to those who were able to study them. Its stained glass windows, though some have faded from the perils of time, showcase the Medici's emblem and other ancient symbols.
The Pitti Palace & Boboli Gardens
Take a tour of the grand Boboli Gardens and see the enchanting garden of roses at the top of the hill. When you're done getting lost in the hedge maze, make your way into the Pitti Palace, which was designed by Brunelleschi himself-- the same man who designed and built the Duomo.
Michelangelo. Need we say more?
Michelangelo created multiple famous works of art which still inspire young artists to this day. From "David" to the "Pieta" statues, there is nothing this man couldn't create. Just walking through Florence, you will notice his influence everywhere.
The Villa Demidoff
For those seeking things to do outside of Florence (as if you could get bored in this city), the Villa Demidoff is an excellent villa park and getaway for those craving a day outside. It is home to the Colosso dell'Appennino, a large statue built during the Medici era. It is something you must see with your own eyes.
Ready to go, yet?
There are many other activities and places to see in Florence. All it takes is a short walk down the street to find something new and spectacular in this city!
Don't forget to enter our "Choose Your Own Adventure" trip sweepstakes for a chance to win a $5,000 getaway to one of three select destinations, Florence included!
NO PURCHASE NECESSARY. A PURCHASE WILL NOT INCREASE YOUR CHANCES OF WINNING. Must be legal resident of the 50 United States (D.C.) who has the age of majority in his or her state or territory at time of entry. Sweepstakes ends 10/16/16. For entry and official rules with complete eligibility, prize descriptions and other details visit http://promo.hccmis.com/5ktripsweepstakes-rules. Sponsored by HCC Medical Insurance Services, LLC. Void where prohibited.
KHE2FFFYH6SP-152-623